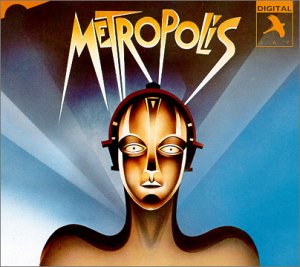 Above the Stag Theatre in London is debuting their new musical revue, "Blink...and you missed it!", which pays tribute to short lived musicals. Here's a rundown of several of them (it's like six posts in one!)
Metropolis: By Joe Brooks and Dusty Hughes, this adaptation of the 1927 silent film ran briefly in London in 1989 and starred Judy Kuhn. A 1984-esque tale of the future...although in this musical the future is the year 2000. So I'd say this one has had its day in the sun. Cast recording is available on amazon.com
Matador: By Mike Leander and Edward Seago. The rise and fall of a fictional matador. This began as a concept album which featured Tom Jones. After a long struggle to get to the West End, it closed after three months in 1991 due to the severe economic impact of the Gulf War. No cast recording-there was supposed to be one but it got called off. John Barrowman, the star, recorded a couple of the songs.
Children of Eden: Stephen Schwarz (Wicked) wrote this musical and premiered it on the WEst End in 1991. Also affected by the Gulf War, this one closed quickly. It got a boost in 1997 when Paper Mill Playhouse mounted a production starring Stephanie Mills (The Wiz). A cast recording of that production was made and since then it has received numerous regional productions. Act I is Adam and Eve (complete with five headed harmonizing snake) and Act II is Noah and the flood. Some gorgeous songs in this one.
The Scarlet Pimpernel: Frank Wildhorn and Nan Knighton's musical hit Broadway in 1997 and ran for two years. Typical Wildhorn contemporary pop style music based on the novel of the same name. A cast recording is available.
Side Show: I'll probably do a full post on this one at a later time. Featuring music by Henry Kreiger (Dreamgirls) and lyrics by Bill Russel, Side Show made stars out of Emily Skinner and Alice Ripley (who just won the Tony for best actress in a musical for "Next to Normal) as the Siamese twins Daisy and Violet Hilton. They were nominated for a joint Tony for their performances. Though it didn't last long on Broadway, it has developed a cult following and is produced fairly often regionally. The cast recording is worth buying if for no other reason than to hear Norm Lewis (The Little Mermaid) sing "You Should Be Loved".
Steel Pier: This musical by John Kander and Fred Ebb (Chicago, Cabaret) and David Thompson ran only 76 performances. The show is about a 1930s dance marathon held in Atlantic City and featured Karen Ziemba (Chicago), Debra Monk (Assassins) and the now famous Kristen Chenoweth (Wicked), who played a supporting role. Cast recording is available.
Many others are performed, including songs from "The Act" (another Kander and Ebb), "Ballroom", "Merrily We Roll Along", "Ragtime" and "City of Angels"--the last three are performed fairly often in the US but not as often in the UK.
The article references a "Silence of the Lambs" musical that never made it to opening night-the only musical version of this 1992 horror film that I've been able to find is called Silence! The Musical. I'd think that was it...but I'm not sure. More to come on that one. How could I resist?
Playbill.com article